MilesWeb's Web Hosting: Is It Worth The Hype?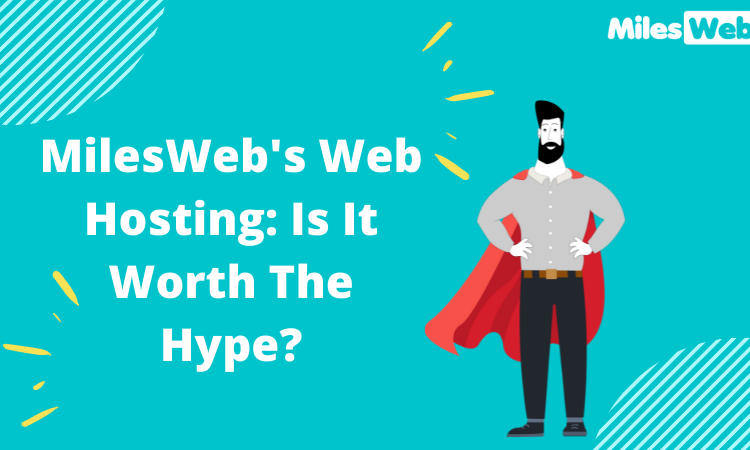 People began to spend most of their time browsing the internet and began to purchase and sell goods, services, and other items over the internet using websites because of the covid-19 pandemic.
Various industries such as manufacturing, apparel, grocery, hydroponics, and so on are creating an online presence to gain a competitive advantage and gain business exposure.
Small, medium, big, or enterprise-level businesses are building an online presence by website development and hosting. Understanding the best web hosts in the market has become crucial.
Choosing the right web hosting plan and web host for your website is significant for achieving optimal website efficiency.
Before you get a web hosting India plan from a web host, there are a few things to consider.
It's critical to determine if you're getting more resources for your money and if the plan is worthwhile.
Verify that the web hosting service provider offers you a guarantee of uptime.
It's more rewarding to know that the business you're dealing with values your money.
Ensure that the organization provides you with the best possible customer service.
Under each type of web hosting, the web hosts provide a variety of web hosting plans. Shared, dedicated, VPS, reseller, WordPress hosting are some of the types of web hosting. You have the option of selecting the web hosting type and plan that best fits your business.
There are web hosting companies that will help you choose the best web hosting service for your domain.
MilesWeb, Hostinger, HostGator, Bluehost, GreenGeeks, inmotion, etc. some of the best web hosting firms.
On comparing the plans, features, and costs of each host, I concluded that MilesWeb offers the best web hosting services at a very affordable price.
About MilesWeb
MilesWeb is the best web hosting service provider in India, with over 70 web hosting plans to choose from. The business was established in 2012, and it has been providing the most reliable service to all of its customers since then. Web hosting plans for shared, reseller, VPS, dedicated, WordPress, windows hosting India and managed cloud hosting are available from the company.
MilesWeb also offers an affiliate marketing program for businesses looking to expand their online presence. On all of the 70+ web hosting plans, they have the best commission rate. MilesWeb offers 24-hour customer support, a 99.95 percent uptime guarantee on all plans, and most plans come with a 30-day money-back guarantee. They deliver enticing discounts and incentives on a variety of web hosting plans.
Additionally, the best Tier-3 and Tier-4 data centers will provide you with the highest uptime. Customer service at MilesWeb is available 24-7 days a week. The expert team also solves a crucial problem in a matter of minutes.
MilesWeb has over 30,000 satisfied customers, and the reason for this is that the team believes in delivering the best service possible.
The benefits of hosting your website with MilesWeb include the following: All web hosting plans include:
24/7/365 Support
99.95% Uptime Guarantee
WordPress Optimized
Backups
Website Builder
1-Click Installer
Webmail Access
DNS Management
FTP Over SSL
File Manager
Multiple PHP versions
PHP Configuration
Remote MySQL
PHPMyAdmin
InnoDB
Cache Manager
Cronjobs
Cloudlinux
Curl and Curl SSL
Hotlink Protection
LiteSpeed
CodeIgniter
Unlimited Sub Domains
Unlimited Parked Domains
Unlimited FTP Accounts
Cloudflare
SMTP, POP3, IMAP
Account Isolation
MilesWeb provides the following web hosting plans:
Shared
Reseller
VPS
Dedicated
Managed Cloud
WordPress Hosting
What are the advantages of MilesWeb's web hosting plans?
This provider is a good choice for beginners, small web ventures, and company websites. The prices are competitive, and the plans come with a variety of benefits. You can easily design your website using the website builder's drag-and-drop feature, which comes with hundreds of ready-to-use models.
You'll have access to a comprehensive knowledge base that includes guides, videos, knowledge bases, insightful websites, and 24-hour support. Additionally, MilesWeb's WordPress hosting services make it a great option for small online stores.
Uptime Guarantee from MilesWeb
The company promises to have the best uptime guarantee because uptime is the most important factor in web hosting. MilesWeb unquestionably promises and offers a 99.95 percent uptime guarantee for all of the websites. Clients are paid if the host fails to meet the agreed-upon benchmarks.
The service provider achieves the 99.95 percent uptime minimum, according to MilesWeb hosting ratings. It seems to have a good track record.
Site Migration at MilesWeb
MilesWeb offers a free site migration service. You are not responsible for uploading or copying files or directories from the server. The web hosting service provider is responsible for the entire migration process.
The business handles everything from copying website files to managing the hosting server. During the relocation, MilesWeb promises that there will be no downtime. For a fast migration, your old host should have a cPanel control panel.
Web Hosting Plans at MilesWeb
MilesWeb offers more than 70 web hosting plans for various forms of web hosting. You may choose the one that best suits your company's needs.
Let us see the Web/ Shared hosting plans by MilesWeb.
MilesWeb has three web/shared hosting plans: Tyro, Swift and Turbo.
The Tyro plan has the following resources:
Host 1 Website
1 Free Domain included
10 Email Accounts
1GB SSD Disk Space
Unlimited Bandwidth
Free SSL Certificate
Website Builder
Control Panel + 1 Click Installer
WordPress Optimized
3 MySQL DB's
MilesWeb provides the best web hosting services for all web hosting plans. You get the best data storage, bandwidth, choice to select your operating system with MilesWeb.
To conclude:
As a result, based on MilesWeb's resources, they are offering the best resources for your website at the most affordable price. A free domain is included with the web hosting package, as well as a free SSL certificate and a lightning-fast website. Apart from that, MilesWeb is a web hosting company that specializes in Windows-based applications. For VPS hosting, they provide managed and self-managed web hosting plans. Affiliates receive the highest commission for all hosting plans. To help you understand web hosting, the company grants you several videos and blogs. MilesWeb is a good choice since it offers a complete package for your website.