MilesWeb Review: The Best Unlimited Web Hosting Provider of Australia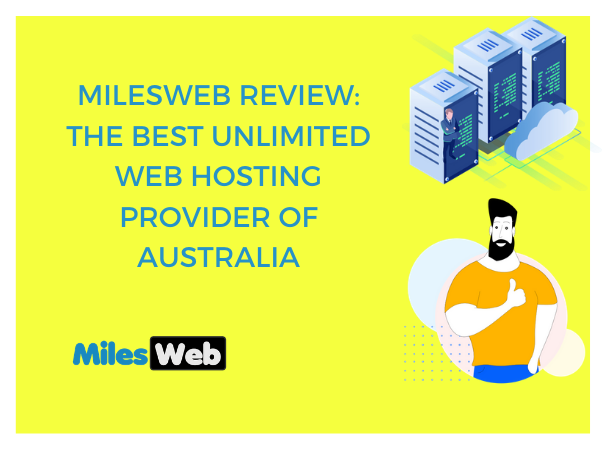 Imagine that you just woke up in the morning and there is a box of unlimited chocolates before you. What would be your reaction? Just a pile of happiness on your face right?
Unlimited is a word that attracts everyone and that's the reason it is used in various niches. It can be found in fashion, food, mobile recharges, etc. Have you ever heard this word in web hosting?
Yes there is unlimited web hosting available in the web hosting industry. What is unlimited web hosting? Does that offer you unlimited resources? Is it similar to shared hosting? Who can afford to buy it?
There are so many questions buzzing your mind and yes you can find the answers below.
So, keep on reading!
Generally, when anyone starts their business online shared hosting is the most preferred option. The reason is because during the start you don't have lot of money to invest in web hosting and also, aren't going to get high traffic immediately on your website. Shared hosting offers you enough resources to handle your website traffic and is offered at budget friendly cost. So, mostly the newbies opt for shared hosting.
After selecting shared hosting, your website will work smooth for a year or two and once the traffic on it starts increasing, you will outgrow the shared server. It means you will need to upgrade your web hosting plan. The next options are a dedicated server and a VPS. Dedicated server is quite expensive as compared to shared and VPS hosting. Since you have just started with your business, it would be difficult for you to buy a dedicated server.
It means you are left with VPS hosting. VPS hosting offers you the environment of both shared as well as dedicated server. You get isolated environment even when you share the server with other users. But again what if you fall short of resources?
This gave rise to another cost-effective option and that is unlimited hosting. In unlimited hosting, you get unlimited resources to use at budget-friendly prices. Let's check what the best web hosting provider of Australia offers you with their unlimited hosting plans
MilesWeb at a Glance

Started in 2012, they aim to offer the best features and enhanced technology to improve the performance of your website.
MilesWeb is a web hosting company headquartered in India and also serves in Uk, USA, Singapore, Canada and also mainly in web hosting australia .They cater all types of businesses with their various web hosting plans. Right from shared to dedicated, WordPress to cloud as well as application hosting, they have an option for all. Today, they cater over 20,000 customers with their hosting services.
You can experience the best uptime of 99.95% on their servers. Also, you get 24/7 customer support via live chat and email to get your queries resolved. Moreover, you can claim for the refund within 30 days of service purchase if you don't get your requirements fulfilled by them.
Unlimited Web Hosting Plans
Features
Get Your Domain for Free:MilesWeb offers you a free domain name and this is one of the biggest benefits. You can save your cost and time on searching for another domain registrar. They also allow you to transfer your existing domain to them for free. You get a free domainonly with their Swift and Turbo.
Free Website Migration:They have made your website migration task very easy by handling all your data with care. You won't be charged extra for the migration and can do the migration when you want to.They ensure your complete data is safely migrated to their servers.
Free SSL Certificate:You get a free SSL certificate with all their web hosting plans to ensure that your website data is encrypted. This is how they care about their customers. Also, with SSL your website's ranking get boosted in Google. Additionally, your visitors start trusting you more with the grey padlock on your website.
Free Site Builder:You can build our own website without anyone's help. No technical and coding skills are needed. Just with the simple drag and drop process, you can create a professional website.
SSD Storage:SSDs can help to store data fast as compared to HDDs. They use flash technology that speeds up the data storage process and delivers faster performance to your website.
Secure Email Accounts:You can access emails quickly and easily with secured POP3/IMAP from your location at any time. The webmail enables you to access emails via three webmail clients -RoundCube, SquirrelMail and Horde.
cPanel Control Panel:You can manage your website without any hassle with the help of cPanel. Tasks such as creating databases, FTP accounts, email accounts, etc. are done quickly with cPanel.
1-Click App Installer:You can install application in just few seconds with the 1-click app installer. They offer more than 400 applications for you to select from.
Instant Account Setup:Your account setup is done just in a few minutes once your payment gets confirmed. You will get an email with your cPanel login details once they setup your account.
Latest PHP and MySQL:The latest PHP and MySQL versions are offered to ensure your website performs speedily.
Datacenter Choice:There are plenty of options to select your preferred datacenter location according to your target audience.
Malware Scan and Removal:With the help of malware scan tool your website is scanned for malware and if found any is destroyed instantly to keep your website safe.
They have a vast library of video tutorials including the step-by-step solutions on different issues that you might face. Browse their tutorials here: https://www.youtube.com/user/MilesWebHosting
Customer Reviews
Conclusion
Last but not the least; MilesWeb has lots of unlimited resources to cater your website. With all these resources you can surely boost your website's performance. So, don't miss to sign up for this Australia's award-winning web hosting provider's plans and boost your overall performance.